Service mapping of NGOs: migration in europe
Service mapping, also known as 3W map (Who's doing What Where) outlines the operational presence by sector and location within an emergency. It can enables organisations to identify potential partners, get an understanding of an on-going response, and identify potential overlaps or gaps in response.
In the past, we have created the 3W map of Lesvos (Greece) which received great feedback for its usability and its completeness. We want to go a step further by providing on online platform.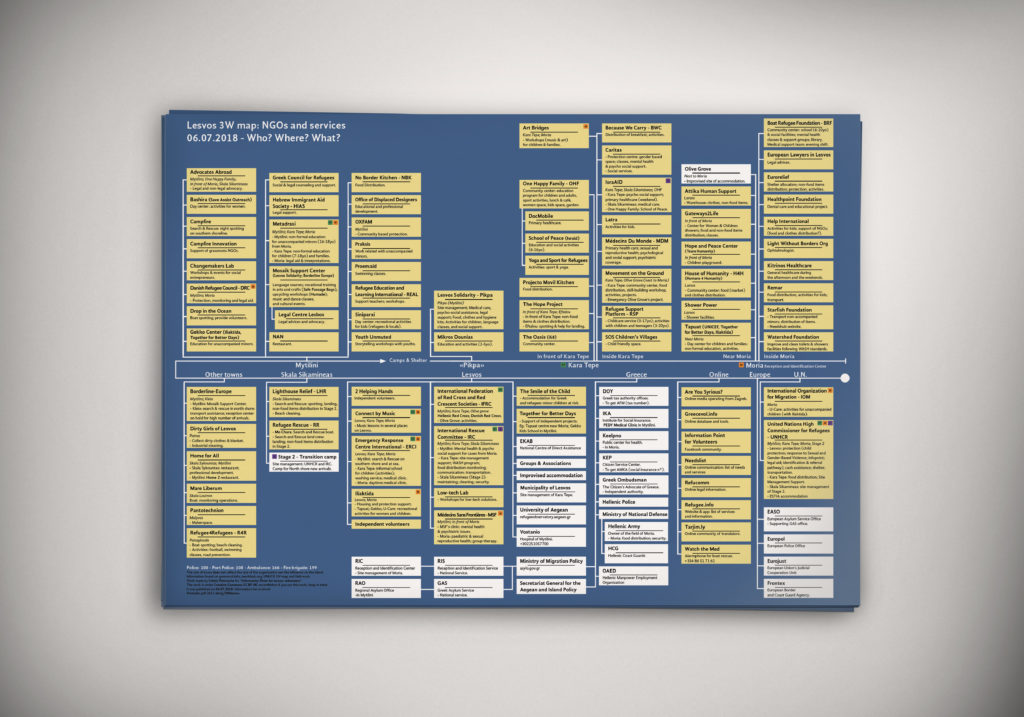 How are we going to build it?
With our experience we have realised that three keys are important to do such a project:
Indeed, if you are lacking one of the tree, you are immediately facing difficult issues:
With no time, even with a great platform, you will have outdated information. Information is a full-time work.
With no people and skills, you may have all the information but it will be hard to share it to everybody.
With no money, it's difficult to get a project alive and sustainable. You could rely on volunteering but it costs time.
An other element is of course important: the user.
For example, if the end-users are displaced people, you must provide translated content on a platform that is easily accessible.
We have done such projects in the past with Oxfam, ICRC and Where Borders Meet (2019) and created this A0 poster (see image). We believe that collaboration and co-creation with the end-users is an important step to avoid cultural-biases and be sure that the information is addressing people's needs.
But for this project, we want to create a platform for NGOs.
We have been coordinators of different humanitarian projects too. We know that coordinators are dealing with daily unforeseen challenges. And when they need an info, they need it now. If they go on such a platform, it must be efficient and relevant. To do so we came with a solution.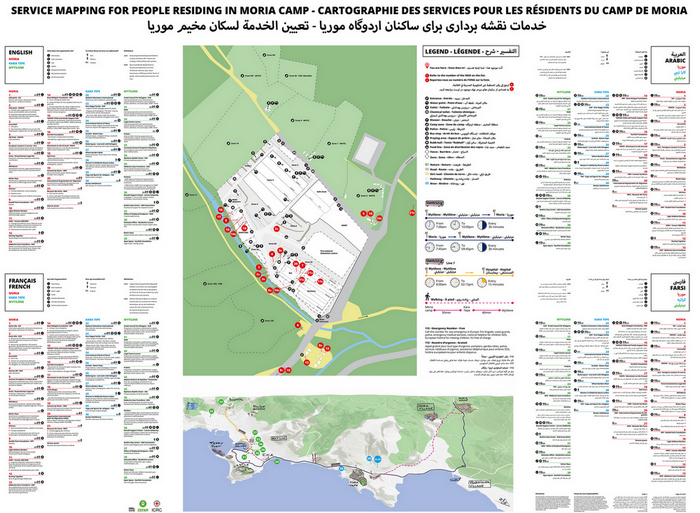 We do have the skills and the content. We believe that automation is a way to run this project with a low number of people and low financial resources.
We have matured this idea enough to come up with a platform that could securely be updated by NGOs with no account needed.
How do you want to support us?
Do you have time, people or money to support our project? We are glad to hear that!
Drop us a mail if you want to join our project. We are looking for all the motivated people.
If you don't have the time, a donation to achieve this project is always warmly welcome.
Do you want to read more about our research?
As designers, we have done a research on how platforms handle information. Platforms such as Yellow Pages have to deal with formatted content and non-formatted content. The real challenge is about finding the perfect balance between the freedom you are letting to NGOs to fill their data, and the usability of the platform to provide coherent profiles for every NGO.
One of the prototype, bellow, shows how we could handle the formatted content. We need to work with designers and developers to create the complete platform.